is Hiring Immediately. Permanent part-time school bus drivers.
For more information, Click Here or visit their website www.firststudentjobs.com.
Swissvale Golden Flashes Football. Click here for information.
For more information, please contact John McFarland @ 412.973.4626 or email at This e-mail address is being protected from spambots. You need JavaScript enabled to view it
WPJWA Equipment Upgrades - Read More...
Vacant Property Recovery Program - Click here for Information...
Vacant Property Recovery Program Fact Sheet - Click here

COMMERCIAL REVITALIZATION – BUSINESS DISTRICT
PHASE I
A contract has been awarded for the first of what is hoped to be several phases of proposed improvements to the Swissvale Business District. The work is anticipated to commence late May/mid June and will be performed along Washington Street between Monongahela Avenue and Palmer Street. The project will initially include such site amenities as new lighting, tree planting, handicap ramps and other such facilities. The project is funded by a Community Development Block Grant through Allegheny County. It is hoped that additional grants will be received in order to complete remaining phases of this redevelopment.
WASHINGTON STREET BRIDGE SIDEWALK
As directed by a recent Penn D.O.T. Bridge Inspection, the sidewalks have been permanently closed and an alternate sidewalk placed over this bridge. This bridge has joint ownership between the borough and the railroad. The borough's Engineer and Solicitor have been working with the Norfolk-Southern Railroad toward developing a plan to replace at least one of the existing sidewalks. The borough has also applied for grant funding toward this end.

Click here for the most recent schedule for Squirrel Hill Tunnel Closures.
Enterprise Zone Benefits Available in Swissvale
The Enterprise Zone Corp. of Braddock (EZCB), an I.R.S. designated 501(C)(3) non-profit corporation, was established in 1986 to promote economic and job development in the Braddock area. Since that time the corporation has put its emphasis on retaining existing businesses and actively recruiting new wholesale distribution and light manufacturing firms along with creating new employment for local residents.

Subsequently the EZCB in conjunction with the municipalities of Braddock, North Braddock, Rankin and Swissvale expanded the Braddock Enterprise Zone into the adjoining communities. This initiative extended Enterprise Zone benefits to these communities to encourage investment and job creation. Read More...


Swissvale First!

Now it's easy to choose Swissvale businesses, first. Use our new online business directory to find store contact information or to search local, independent businesses, only! Stay tuned - businesses are in the process of adding coupons, specials and much more to their listings on this new site!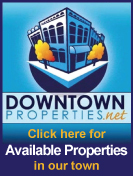 Also, users can search for main street properties available for sale or lease in Swissvale by using DowntownProperties.net